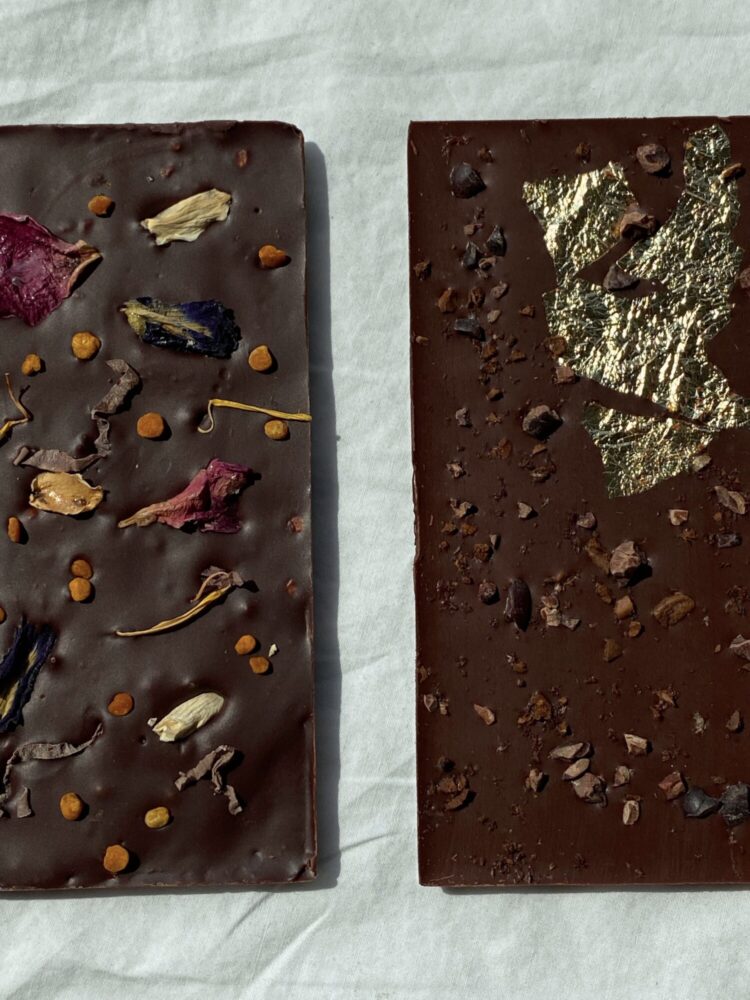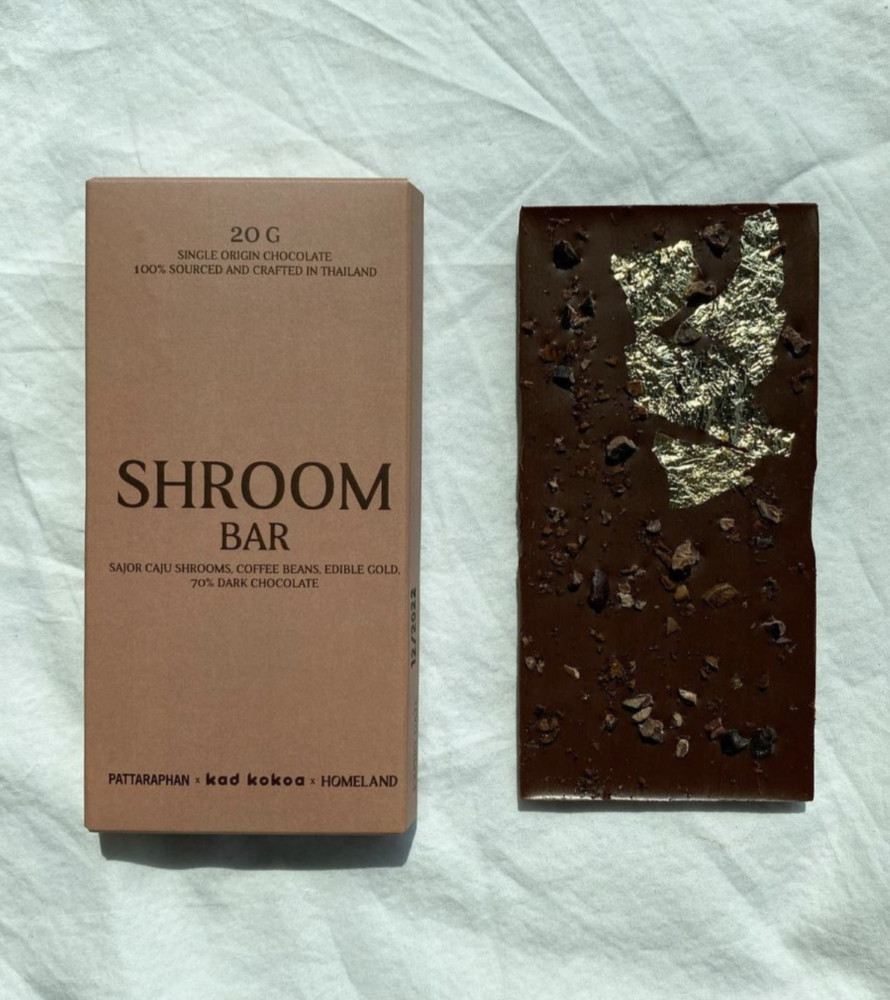 The Flora Bar & Shroom Bar Set
PATTARAPHAN x KAD KOKOA x HOMELAND
What's included in the set:
The Flora Bar — Laced with organic butterfly pea, organic sacred lotus, organic jasmine blooms, organic damask roses, and crunchy bee pollen, this bar is made from Chantaburi cacao beans with unique characteristics of dried tropical fruits and brown sugar. A truly unique floral chocolate with notes of passion fruit, mango, and a honey-lemon creamy body.
Organic sacred lotus, organic butterfly pea, organic damask rose, and organic jasmine blooms from HOMELAND's partner group, the Hua Jai Insee Group, in Nakhon Pathom
20g per bar
The Shroom Bar — Shiitake and organic Sajor Caju mushrooms blended with coffee beans and cacao nibs are the perfect match for the strong cacao body of Chumphon cacao beans. A dark and earthy bar with notes of ripe grapes and red berries, topped with edible 24k gold.
Organic dried mushroom from HOMELAND's partner group, the Hua Jai Insee Group, in Nakhon Pathom
20g per bar
About the Collab:
Single-origin chocolate conceptualized by PATTARAPHAN and produced by Kad Kokoa with high quality local ingredients sourced by Homeland Grocer.
Our ethically sourced premium chocolate bars pay homage to Thailand's vast array of beautiful natural ingredients.
They embody the delicate attention, care, and intimacy that goes into taking care of our soil and the beauties that blossom from it. It is a reminder of our coexistence with nature, with each other, and the primacy of tenderness, pleasure, and love.
Available individually at HOMELAND starting February 1, 2022.
Available in a gift set for pre-orders via PATTARAPHAN's LINE now (@pattaraphan).
About the Makers
In Thai, "Pattaraphan" means beautiful skin. Crafted in Bangkok by local artisans, the jewelry's brand quality genderless designs are modern classics that seamlessly balance between heritage and innovation with a punk sensibilty.
Kad Kokoa sources cacao beans that are of single provincial origins. It supports the collective and farmers for bean grading, fermenting and drying to ensure it brings out the complex flavors and aroma of Thai chocolate. Its taste and quality are guaranteed by the International Chocolate Award 2018 and 2019, and by AVPA Paris awards 2020.
Ingredients 
The Flora Bar: Chantaburi Cacao Beans, Organic Sugar, Organic Sacred Lotus, Organic Butterfly Pea, Organic Damask Rose, Organic Jasmine Blooms, Cocoa Butter, Honey, Bee Pollen
The Shroom Bar: Chumphon Cacao Beans, Organic Sugar, Organic Sajor Caju Mushrooms, Shiitake Mushrooms, Cocoa Butter, Coffee Beans, Cacao Nibs, 24k Gold
Allergy Information
Contains caffeine. Produced in a factory where milk, peanuts, sesame and their products are also handled.
Care Instructions
Please keep refrigerated at 12-18 degrees Celsius (wine fridge recommended)
Our Supply Chain
We work directly with small-scale and family farmers, producers, fisherfolk as well as community partners who are not just suppliers, but our partners in the movement to create a sustainable, equitable and self-sufficient food system in our homeland.
Partner Farmers,
Producers, Fisherfolk & Community Partners