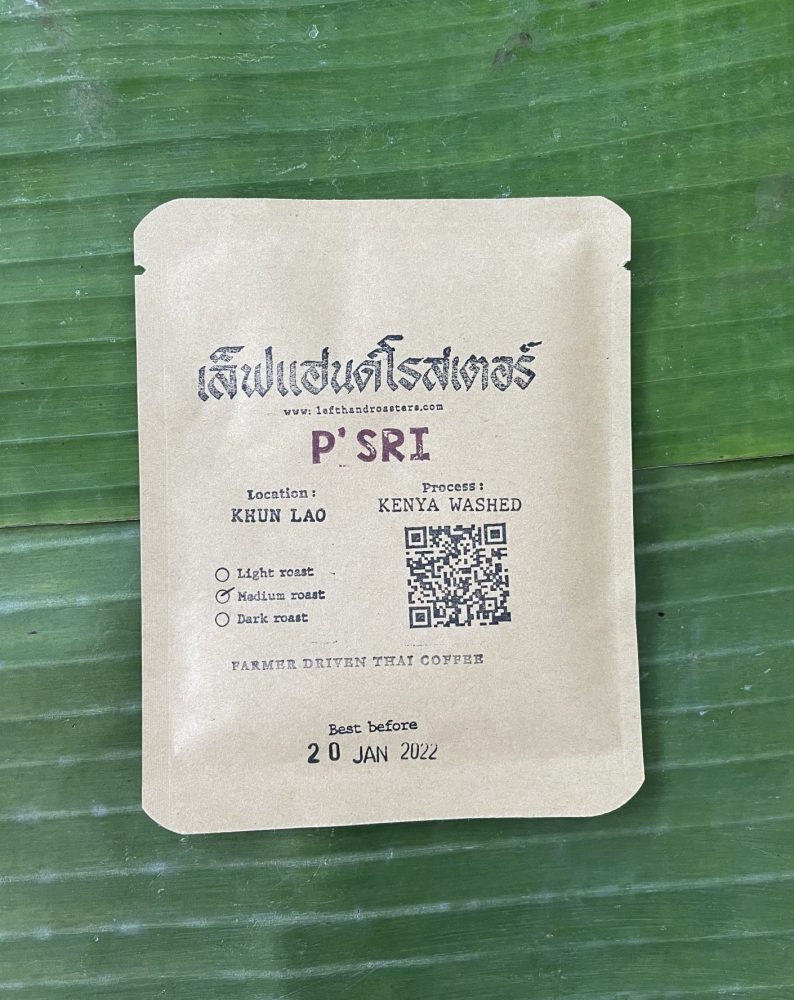 Left Hand Roasters "P'Sri" Coffee (Drip Bags) – PACK
Left Hand Roasters P'Sri Drip Bags
A leading woman in the Thai coffee community of Khun Lao, Chiang Rai. This village originally cultivated Assam, earning their recognition as reputable producers of "Miang", or fermented Assam tea leaf.  Now Khun Lao is also on the map for producing amazing organic forest grown coffee. P'Sri prioritizes the care of the forest and understands the importance of biodiversity and healthy terroir for sustainable and quality products.
Location: Khun Kao, Chiang Rai
Elevation: 1,200-1,350 meters
Process: Kenya Washed
Roast: Medium
Taste: Grape jelly, raw cacao, oolong tea
Brewing Guide

Ratio: 1:15
Water temperature: 93 degrees Celsius
Brew time: 2:30
5 drip bags per order (10g per serving per bag)
*Vat included
About the Maker
"Farmer Driven Thai Coffee"
Year was 2005, and wandering through the jungles of Pang Paek, Mae Hong Son, Left Hand Roasters stumbled across a local Lisu village. This is the furthest north region of Thailand which borders Burma and is a mountainous area with thick jungle, lush canopies and thousands of varieties of indigenous fruits, vegetables and plant-life.
One of the farmers in the village kindly gifted them some natural process green beans, as chefs, inspired us to play around with roasting in the traditional ways: clay pots, woks suspended over open flame and cast iron pans. While these methods decidedly needed refinement, it gave Left Hand Roasters a general insight into the complexity of this Thai Arabica, and a humble understanding of the importance of quality equipment.  The inspiration to investigate this commodity which further motivated Left Hand Roasters to build hand-made custom roasters.
Since then the company culture of Left Hand Roasters has evolved in the twelve years since that first gift of Thai coffee. The focus of Left Hand Roasters is to empower individual farmers in the communities of Northern Thailand and encourage them to be self-sustaining through education and support, while providing them with the distribution channels for success in the global market.  Farmer driven refers to the direct trade of Thai coffee that gives the credit to the farmers and supports the communities surrounding them. With conscious practices such as reforestation, organic farming, and regenerative permaculture as farmer requirements for partnership, Left Hand Roasters is moving towards sustainable, fair trade products that highlight the hidden potential of Thailand's untapped commodity: the coffee bean and their byproducts.
The "left hand" is referred to as the hand of alchemy, a seemingly magical process of transformation, creation, and combination [of forces.]  Left Hand Roasters was founded on the principles of its coffee's alchemy, with handmade roasters used to heat, manipulate, and transform the beans to highlight their complex, yet subtle flavors and aromatics. Left Hand Roasters follows the left path that leads away from conformity and into unique company culture as a social enterprise.
Left Hand Roasters' goal is to refine the vertical integration of coffee in Thailand, procure delicious, fair-trade and sustainable products and share them with the world.
Care Instructions
Please keep in a cool dry place
Our Supply Chain
We work directly with small-scale and family farmers, producers, fisherfolk as well as community partners who are not just suppliers, but our partners in the movement to create a sustainable, equitable and self-sufficient food system in our homeland.
Partner Farmers,
Producers, Fisherfolk & Community Partners