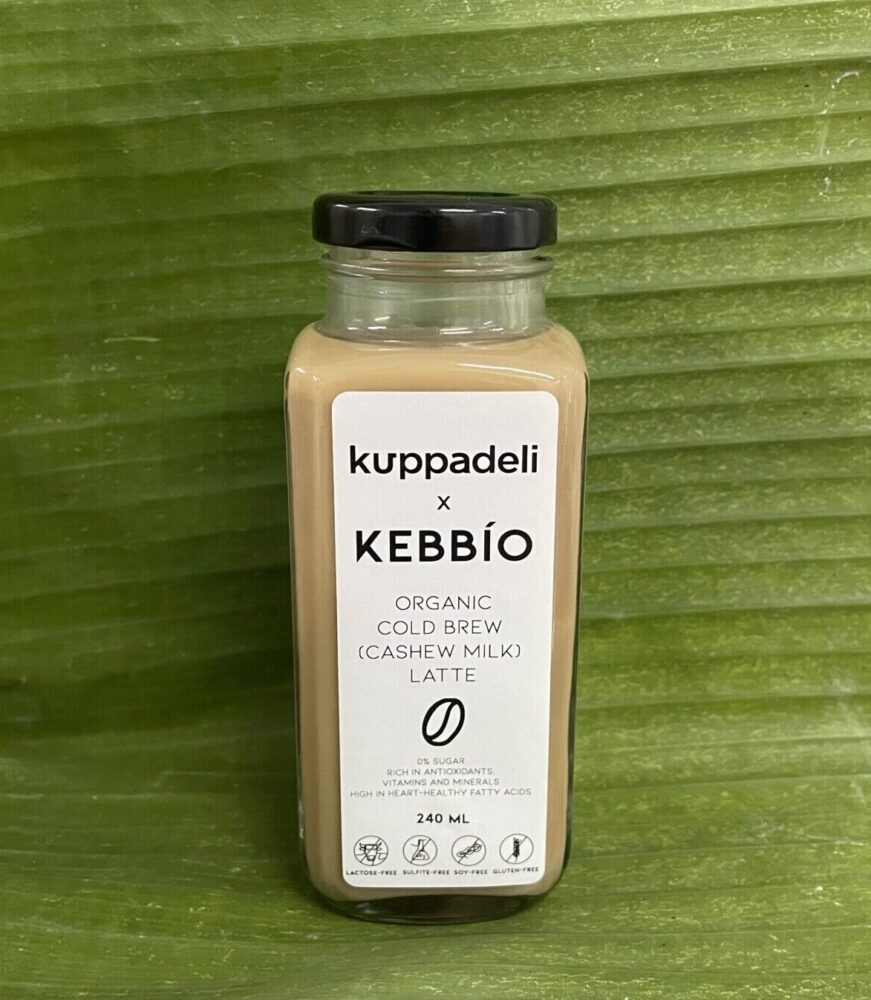 Kebbio Organic Cashew Milk (Cold Brew Cashew Milk Latte)
Kebbio Organic Cashew Milk (Cold Brew Cashew Milk Latte)
With a similar vision of sustainability and passion, the creators of kuppadeli and Kebbio joined forces and proudly present Kebbio's latest collaboration: artisanal organic cold brew latte.
Freshly made in-house with sustainably-sourced organic ingredients, no nasty additives, and no added sugar, Peruvian coffee and local cashew milk will provide you with a caffeine boost, minus the acidity of drinking pure black coffee.
Free of additives or preservatives.
High in fibre for good digestion.
Packed with vitamins (K, B6) and minerals (Copper, Manganese, Zinc, Magnesium) for optimal cellular health.
Vegan
240 ml
Ingredients
Locally grown organic cashews, double-filtered water, Peruvian coffee
About the Maker
More sustainable
Kebbio sources locally from Isan, one of the most fertile yet poorest regions in Thailand. Not only is Kebbio supporting the local economy, but they are also reducing the carbon footprint and food miles associated with importing ingredients from abroad. By supporting local organic farmers who engage in good farming practices, KEBBÍO is encouraging them to continue to be environmentally aware. Less exposure to harmful chemicals is a win-win for everyone.
Fair trade
Kebbio sources directly from farmers, giving them fair pay and bypassing middle-men. This ensures all the profits go straight to the farmers so they can support their families. This is positive reinforcement for engaging in sustainable farming practices.
Transparent supply chain
Everything can be traced back to where it came from, down to the name of the farmer. This ensures accountability and also creates a closer relationship from buyers to producers. What's not to like?
Care Instructions
Please keep refrigerated below 4 Celsius –preferably in the coldest section of your fridge that is not the freezer
Good for up to 1 week if unopened
Separation is normal; shake well before use
Once opened, best consumed within 3 days
Our Supply Chain
We work directly with small-scale and family farmers, producers, fisherfolk as well as community partners who are not just suppliers, but our partners in the movement to create a sustainable, equitable and self-sufficient food system in our homeland.
Partner Farmers,
Producers, Fisherfolk & Community Partners