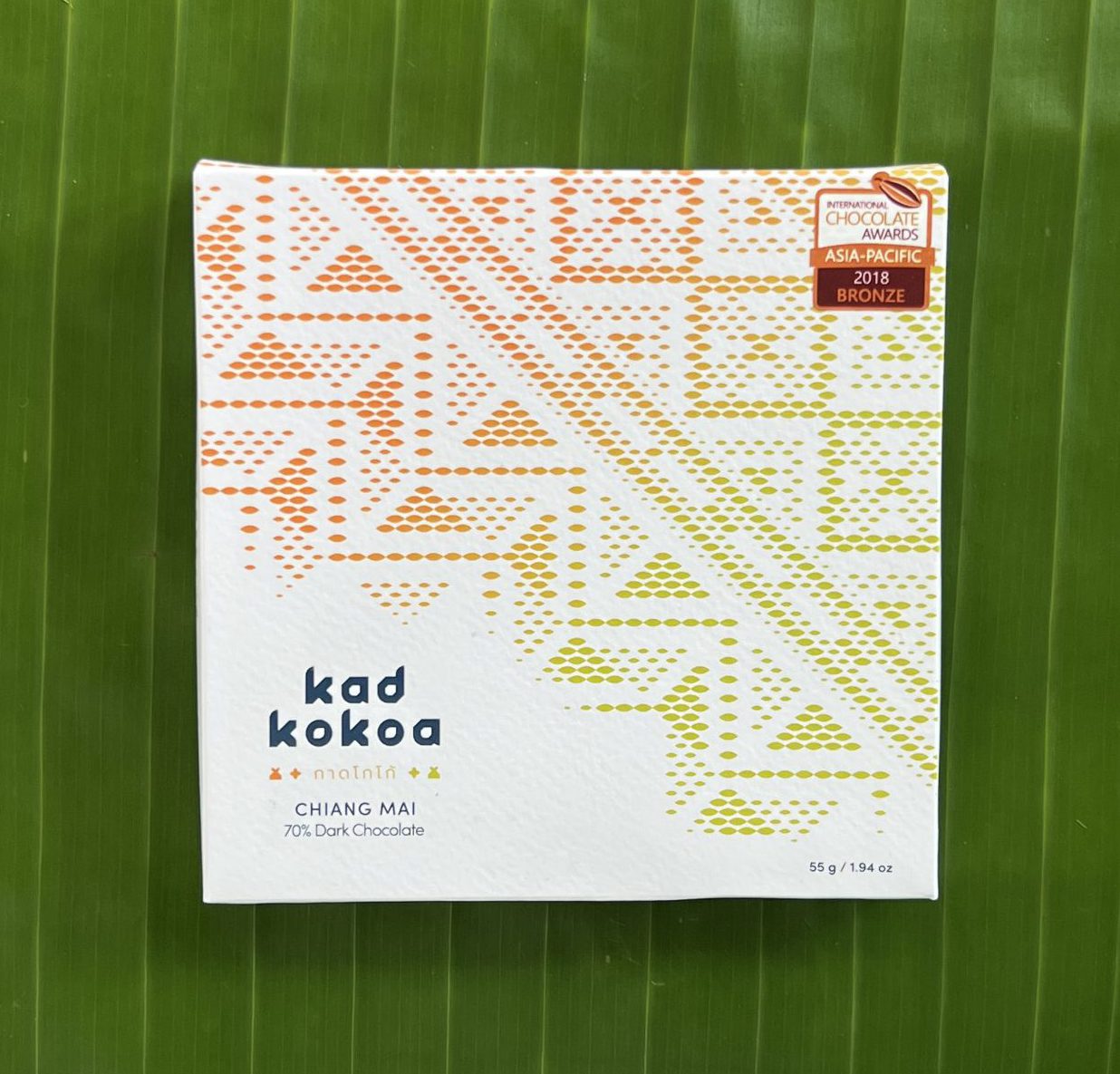 KAD KOKOA: Chiang Mai Single Origin
KAD KOKOA: Chiang Mai Single Origin
Organic cacao beans from a private contracted farm of ours in Pa Pae, Mae Tang, Chiang Mai, are made into craft chocolate bars. You will taste slight floral notes, and a delicate exotic fruitiness in the background of a strong earthy body
Kad kokoa has partnered with MTT farm for our outgrowing operation, which promote the growing of cacao in Chiang Mai and its surrounding provinces. MTT farm was the founder by the late Mr. Muangkaew Chaisuriya, specifically the Chumphon cacao variety. After Mr Muangkaew obtained this unique variety from the Chumpon Horticulture research center, his dream was to build the foundation for quality cacao production in the north of Thailand. Ms Muangkeaw's mission inspired us to carry on his legacy by partnering with his son to produce the finest quality chocolate possible using only their beans.
Taste notes: Earthy body, exotic fruits, floral notes.
55g per bar
About the Makers
Kad Kokoa sources cacao beans that are of single provincial origins. It supports the collective and farmers for bean grading, fermenting and drying to ensure it brings out the complex flavors and aroma of Thai chocolate. Its taste and quality are guaranteed by the International Chocolate Award 2018 and 2019, and by AVPA Paris awards 2020.
Ingredients 
Cacao beans (origin Chiang Mai) 70% Organic Sugar 30%
Allergy Information
May contain trace of nuts, egg and milk protein, soya, and gluten due to the presence of the factory.
Care Instructions
Please keep refrigerated at 12-18 degrees Celsius (wine fridge recommended), protect from light.
Our Supply Chain
We work directly with small-scale and family farmers, producers, fisherfolk as well as community partners who are not just suppliers, but our partners in the movement to create a sustainable, equitable and self-sufficient food system in our homeland.
Partner Farmers,
Producers, Fisherfolk & Community Partners